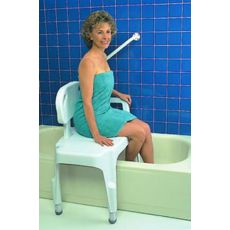 Essential Bathroom Safety Products
The bathroom is considered the most dangerous room in the house, contributing to more than 200,000 home injuries per year, according to the National Safety Council. Given the dangerous risks of slippery surfaces, scalding temperatures, and sharp corners, bathroom safety is essential for the whole family, especially elderly adults and children.
Simple changes, such as using a nightlight, sticky tub decals, and non-skid bath mats, can help reduce the risks of slips and falls. For increased safety, bath safety products, provide a sense of security, while maintaining independence and dignity. Many people worry that renovating their bathroom for safety means ruining the walls, tub, and general look of their bathroom, but here are four simple changes that blend into any decor and leave no lasting changes to the bathroom.